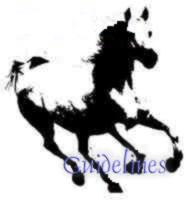 Please read these rules and guidelines carefully so you can fully
understand how to play Hooves 'n' Hocks!




After you join, you'll receive a welcome note from me and confirmation
that your horse exists within HH. After I send you an email, get an
account at the HH National Bank. You will get $300 000 in your
account to begin with. The bank will keep track of your money
and transactions.



You start off with a maximum of 3 horses that you make up from
the joining form. If you'd like to buy another horse,visit the
Classified Ads, look for a stallion in the Stud Book, or adopt
one from the Neglected Horses page.



All stables must but the feed and bedding for their boarders'
horses. If not, the Neglected Horses Committee (NHC) will
find out and you can no longer run your stable.



If you want to build a stable, you have to be an active player,
familiar with the game and know a little HTML. Then you can
create a page (if you can obtain the services of someone
who'll make the page for you, that's okay too) with all the
stable's information: boarding plans, facilities, etc. Then
give me the URL, and I will consider putting it on the
stables page.



As soon as you join, you can buy tack, go to the vet, enter
a horse show, or whatever you want! Tack is a necessity, so
you can't do anything unless you buy the things you need: halter,
lead rope, saddle, girth, bridle and bit, grooming supplies, and a
helmet.These are the items you're required to buy, all other tack
is optional.



Every payment is to be made in a check:
***************************
name:
amount:
memo:
given to:
***************************



You have to visit the vet twice a year to get vaccinations
and to have your horse's teeth floated. You should see the
farrier every six weeks to have your horse's hooves shod and
trimmed. It's a good idea to visit the vet before you buy a horse,
so he/she can detect any problems you might have missed.
Don't worry, if you totally forgot to make an appointment, you get
an emailed reminder.



HH runs on a ribbon system, meaning the more ribbons you
have, the more valuable your horse is. You get ribbons by entering
and winning in horse shows. If you win 1st place in a horse show,
you'd get a little ribbon that looks like this:


It will be put it beside the horse's name. So say my horse, Evening
Perfection, has 2 1st place ribbons, 1 3rd and 3 5ths. It would
look like this:
Evening Perfection








You can see how many ribbons a horse has by visiting the
Horse Records.



The Lottery is a way to get alot of money! Tickets are $3 each,
and the lottery runs every Friday. Go to its page to see what the
prizes are.



If you want to host a show, contact your stable manager and
get permission to have one there. (If your stable won't let you host
a show, just ask another stable.) Then set a date, and come up
with classes and entrance fees. Post the show on the Upcoming
Events board.To determine the winners, write the entries on little
slips of paper and pull names out of a hat for each class until you
get 6 places. Then, post the results on the board, and I will place
the new ribbons next to the winners in the Horse Records.



Time is passed in real time, with the exception of mares in foal
(where the mare may have the foal a month after it was
conceived) and newborn colts and fillies (you may age them up
to 4 years 2 weeks after they're born).



Before competing in a show, your horse must be trained
in a certain discipline. Depending on the trainer, it will take 2
weeks to a month to train your horse up a level. To become
a trainer you must be active (posts regularly on the message
board, been in the game for a while) and request permission for
a training license. Once you have been granted one, you can
begin charging for your services, taking one month to train a
horse (you may train no more than one at a time, but no more
than 5 horses). Once you have been a trainer for 3 months, you
can upgrade to a premium trainer's license (which will permit
you to take only 2 weeks to train).

Email Sarah if you want to apply for a trainer's license or to upgrade.



It is not necessary for you to find a picture for your horse, but
it's very beneficial to find one because it makes the horse more
realistic, will make the horse more appealing to buyers, and you will
be able to enter the horse in breed halter classes. You cannot
enter your horse in a breed halter class without a picture as the
horse will be judged on its looks and confirmation. So surf the
net and get a great picture of your dream horse!

Have any more questions? Click here!






Go Home